The Magic Cone Ice Scraper is the only ice scraper you will ever need for your car.
No more freezing your hands, getting to work late, spending hours getting all that snow and ice off your car.  
All your winter issues are solved with our Hottest Product of 2019: The Magic Cone Ice Scraper.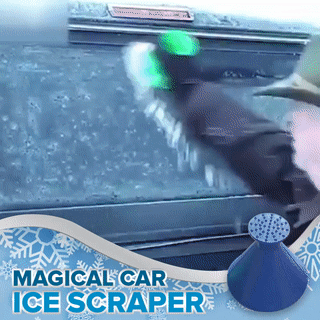 Remove Snow & Ice Off Your Car With Ease.
You really can't go wrong with these as the Magic Cone Ice Scraper is better than any other ice scraper on the market. It is a must-have for anyone that hates spending a lot of time removing ice from their cars.
With the Magic Cone Ice Scraper be prepared to get rid of all snow, and ice in a matter of seconds!

Our 2 in 1 Magic Cone Ice Scraper Is made with an intelligent cone design and is suitable for the toughest of winters.
T
he smaller side of the cone is a non-scratch ice-breaker whereas the larger side is designed to get you more room while removing the ice.
Prepare for the next time you roll out of bed realizing you gotta clean your car with our best selling Magic Cone Ice Scraper!
FEATURES: 
Scrapes window frost, ice/snow in record speeds.
Contains scratch-free ice-breaker spikes to break tough winter ice with ease
Scratch FREE Material: Doesn't damage car windshields.
Works on any car.
Quick & easy to use.
Extremely High QUALITY
Double the surface area to scrape than any other scraper.
The comfortable design makes it easy to hold and store.
PACKAGE INCLUDES:
1 pc x Magic Cone Ice Scraper, OR
1 set (4pcs, all different colors) x Magic Cone Ice Scrapers
OUR GUARANTEE: 
Not satisfied with your order? No worries! Let us know within 30 days and we will give you a stress-free refund.